The works of Ana Adam and Lazar Marković The National Museum of Veliko Gradište Photo courtesy of the Festival
Ana Adam (Romania) – Lazar Marković (Serbia)/ Veliko Gradište National Museum; Kramar (Austria) – Branimir Karanović (Serbia)/ Blok Gallery, New Belgrade; Iglika Hristova (Bulgaria) – Ivana Tomanović (Serbia)/ Meander Gallery, Apatin
Curated by: Sava Stepanov
The Festival of Contemporary Art, the Danube Dialogues, was originally conceived as a series of exhibitions that confront or harmonize the views of participants – such as conversations presenting different understandings of the world and art. This year's program of the Danube Dialogues, in addition to the central exhibition entitled "Perceptions of Contemporaneity", includes nine such exhibitions encompassed by the cycle Dialogues Along the Danube: from Apatin to Kladovo, where artists from the Danube countries exhibit together with Serbian artists. A series of extremely interesting dialogues has been created, focusing on the following three topics: everyday urban life (New Belgrade, Sremski Karlovci), the surrounding nature and the nature of art (Apatin, Novi Sad, Veliko Gradište) and the ambience and recognition of the spirit of a place (Banoštor, Viminacium, Kladovo, Novi Sad).
KRAMAR (AUSTRIA) – BRANIMIR KARANOVIĆ (SERBIA)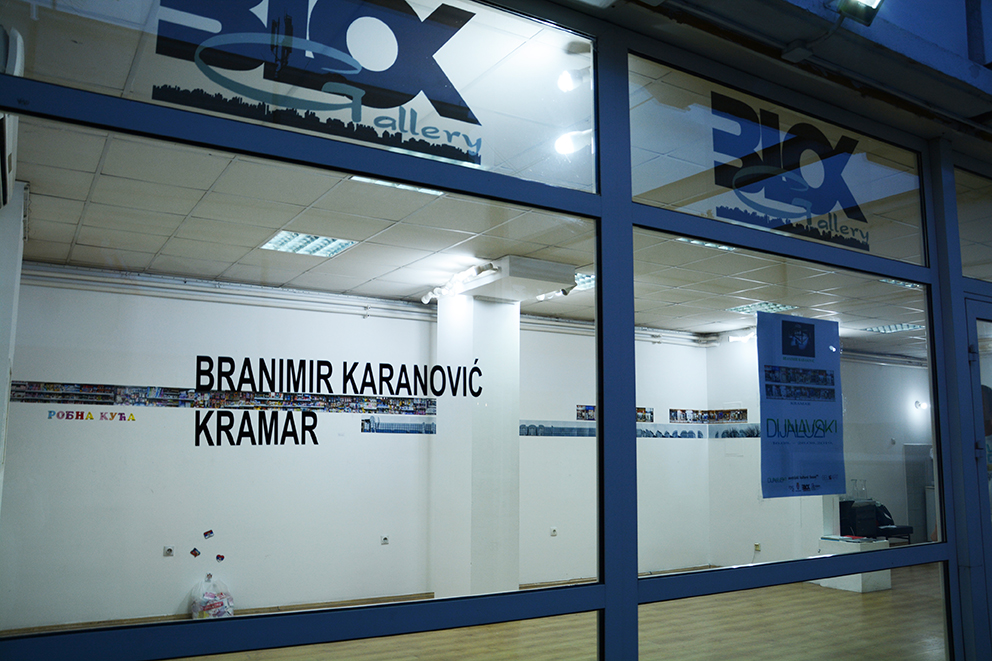 Thanks to the collaboration of the Bel Art Gallery of Novi Sad and the Blok Gallery of New Belgrade, on Friday, August 16, 2019, an exhibition was opened as part of the Dialogues Along the Danube: from Apatin to Kladovo, establishing a dialogue between the photographs of Kramar, an Austrian artist from Vienna, and the photographs of Branimir Karanović, a renowned artist from Belgrade. Their concepts of photography are very close as both develop their respective motives by putting together numerous individual photographs defining comprehensive scenes through a cumulative impression.
Kramar focuses on recording architecture, exploring the visual spirit of urban spaces and objects. His photographic story extends in a straight line, with a series of merging single photos, allowing for a continuous "duration" of one's view. Yet, Kramar is not satisfied with the simple interpretation of what we see, but rather tries to capture the spirit of a living space with these "extended" scenes. He seeks to identify the sociological and cultural characteristics of a place. For many years, he has been focusing on the Eastern Bloc countries and their transitional transformation.

Unlike Kramar, Branimir Karanović builds his motives with a kind of fragmentary scenes conglomeration. By photographing details, he seeks to incorporate them into meaningful, puzzle-like entities. His photographs do not aim at offering interpretation, but represent a specific structuring of the (photographic) image and its meaning. Therefore, Karanović is not only a spectator and photographer, but an authentic artist who seeks to analyze and identify the essence of the visible manifestations of the world and human destiny in symbolically marked, open and problematized areas of everyday life. (Sava Stepanov)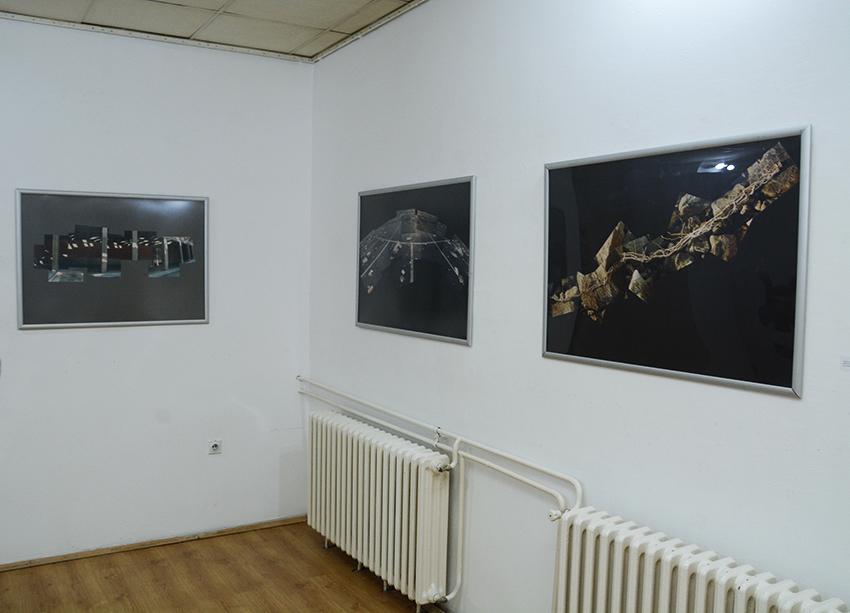 Branimir Karanović (1950, Belgrade)
In 1974, Karanović from the Faculty of Applied Arts and received a master's degree in 1976 from the Faculty of Fine Arts in Belgrade (class of prof. Marko Krsmanović). Since 1974, he has been exhibiting at solo exhibitions (Belgrade, Novi Sad, Zagreb, Rijeka, Ljubljana, Venice, Thessaloniki, Paris, Prague, etc.) and group exhibitions at home and abroad (Belgrade, Krakow, Edinburgh, Lisbon, Thessaloniki, New York, Tuzla, Berlin, Ulaanbaatar, Paris, Madrid, Vienna, Tokyo, Houston, etc.).
Awards: First Inter-Debut Prize for Graphics, Krakow, 1976; First Prize for Drawing at Yugoslav Portrait Exhibition, Tuzla, 1979; Great Seal of the Graphic Collective, Belgrade, 1977; Gold Needle of the Fine Artists Association of Serbia (ULUS), 1981; Purchase Award of the Museum of Applied ArtIsts at the October Salon, Belgrade, 1977; Graphics Award at the October Salon, Novi Sad, 1993; Photography Award at the October Salon, 1997; Grand Prix of the Applied Artists and Designers Association (ULUPUDS) at the May Exhibition, Belgrade, 2003; Belgrade City Hall April Award for Creativity in the Field of Fine and Applied Arts, 2005; Small Seal of the Graphic Collective, 2009.
From 1978 to 1997 he taught photography at the Academy of Arts in Novi Sad. Since 1996 he has been teaching photography at the Graphics Department of the Faculty of Applied Arts in Belgrade.
In his work, he focuses on graphics and photography.
Kramar
Kramar lives in Vienna, Sabara and Tiraspol (Moldova). He has been interested in photography since childhood. He has been traveling and exploring the Eastern Bloc and their successor countries since a young age.
He focuses on art and design as an international, engaged and conceptual photographer.
Since the 1990s, Kramar has been working on various projects related to picture, media, art and books in Austria, Eastern and Southeastern Europe.
He is a recipient of the Austrian Film Office and the Robert Bosch Foundation fellowships.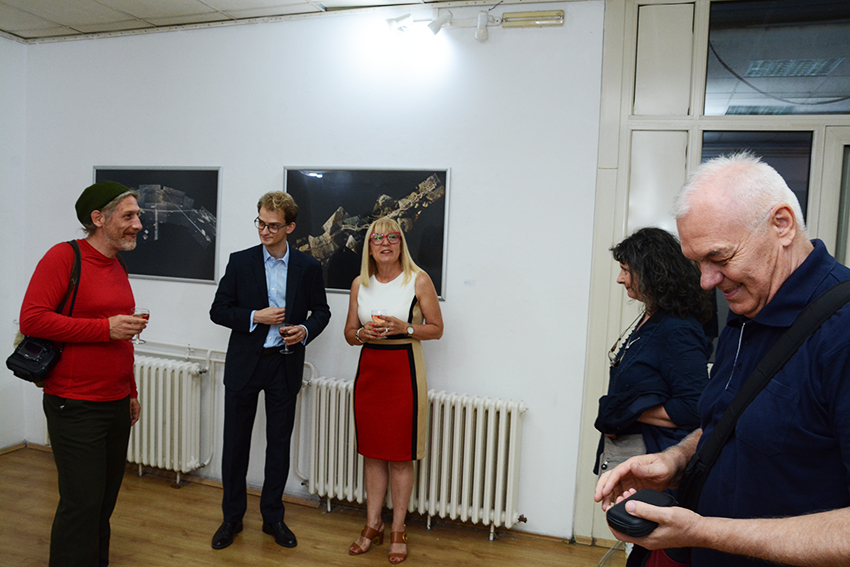 ANA ADAM (ROMANIA) – LAZAR MARKOVIĆ (SERBIA)
Veliko Gradište has been included in the program of this year's Danube Dialogues. Due to the successful cooperation of the Bel Art Gallery and the National Museum of Veliko Gradište, the exhibition of drawings and objects by the Romanian artist Ana Adam and Novi Sad artist Lazar Marković was opened, establishing a dialogue between them. They both endeavor to use the material they draw on as basis for artistic expression. In their works, the line is discreetly present but Ana Adam emphasizes the layered materiality of the work, while Lazar Marković focuses on three-dimensional drawings-objects and digital animation. These unconventional drawings of the two artists, however, do not ignore the basic values of a drawing but rather contribute to the reinforcement of its content, its visual, artistic and metaphorical messages to the audience.
Ana Adam (1964) studied at the Ion Andreescu Academy of Art in Cluj, and graduated with a degree in graphic arts in 1992. She has been a member of the Romanian Association of Fine Artists since 1993. She works with publishing houses Dacia, Sedona, Brumar, Hartmann and Elena Francisc. Since 1994, he has been teaching at the Secondary School of Fine Arts in Timisoara. She has been exhibiting since 1991.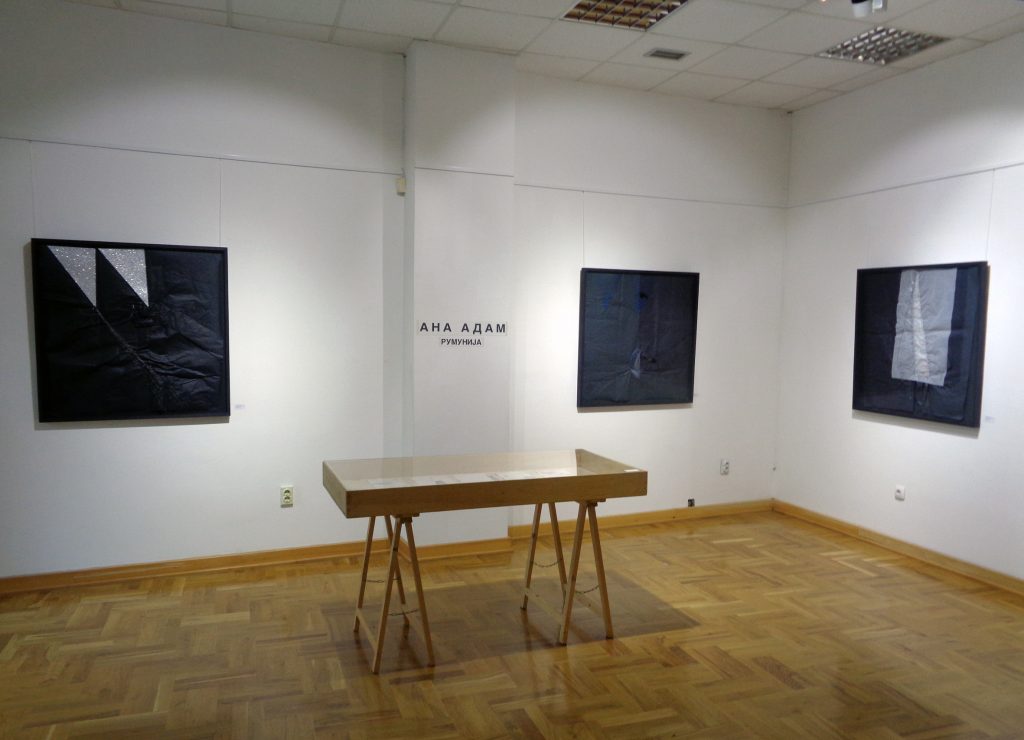 Lazar Marković (1960) graduated from the Academy of Arts in Novi Sad. He received a master's degree in graphic design from the same Academy. As a painter and a graphic artist, he had 47 solo exhibitions and participated in about 180 group exhibitions in the country and abroad. He is a member of the Association of Fine Artists of Vojvodina. For a wile, he was a director of the Gallery of Contemporary Art – Rajko Mamuzic Memorial Collection in Novi Sad.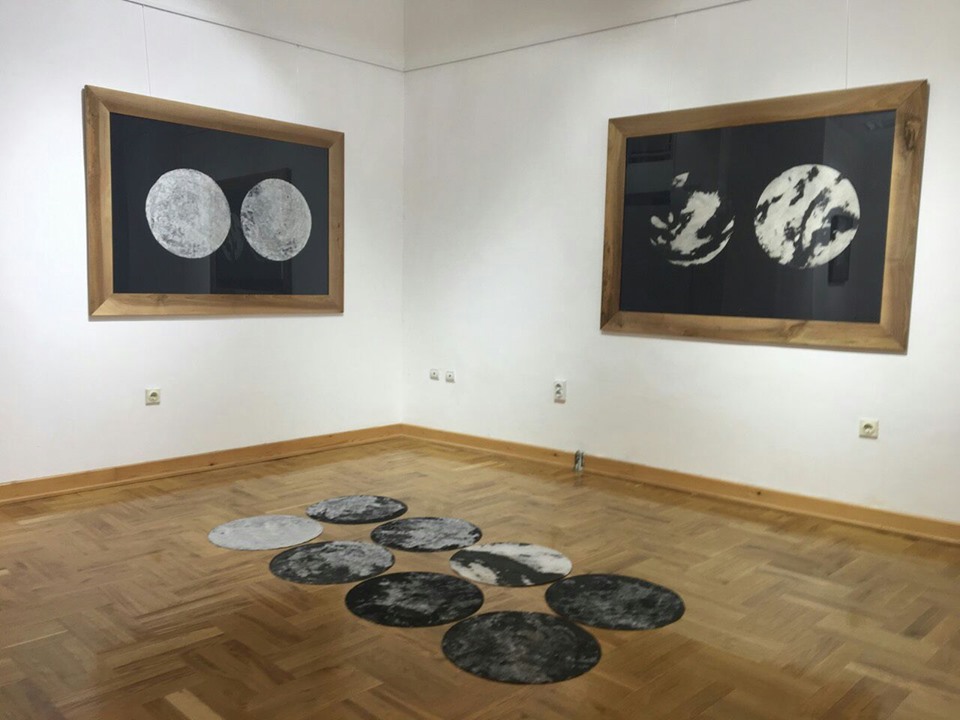 The exhibition of Ana Adam's and Lazar Marković's drawings was opened at the National Museum of Veliko Gradište on July 26, 2019, at 7 p.m. Vesna Latinović, director of the Bel Art Gallery and the Danube Dialogues, and Sava Stepanov, art critic and author of the Dialogues Along the Danube exhibition project, addressed the audience at the opening.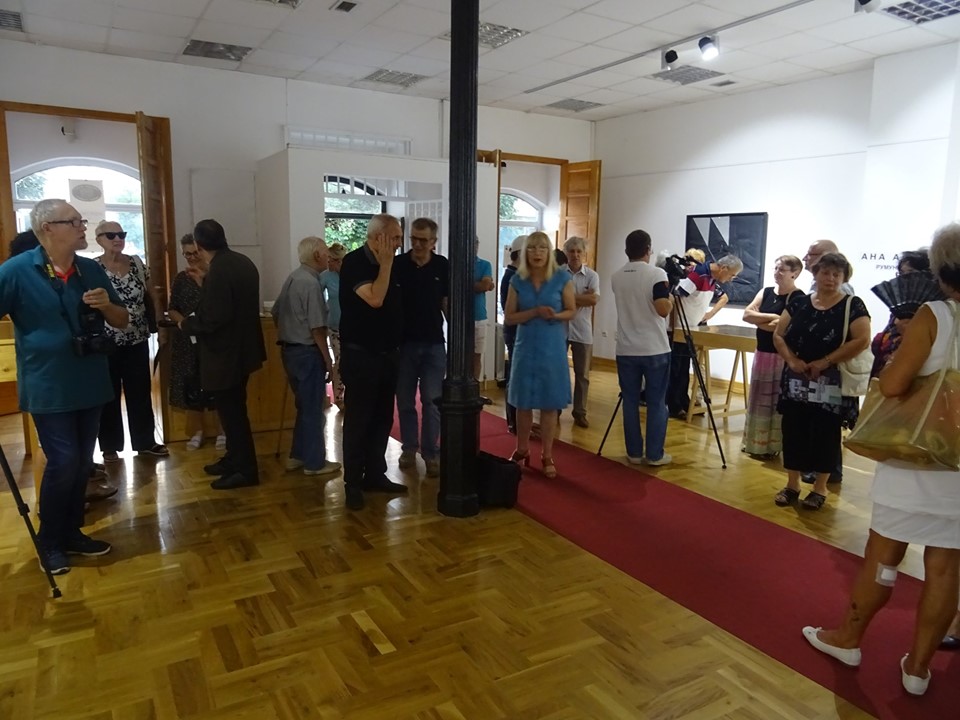 IGLIKA CHRISTOVA (BULGARIA) – IVANA TOMANOVIĆ (SERBIA)
Where science ends, art continues.
Marc Chagall
In a series of exhibitions Dialogues Along the Danube, the exhibition of photographs and drawings by Iglika Christova, a Bulgarian artist living in Paris and Sofia, and photographs by Ivana Tomanović of Belgrade, a professor at the Novi Sad Academy of Arts, has been staged at the Meander Gallery in Apatin. Both artists are in their full creative strength and maturity, with clearly defined creative attitudes, with achievements which can be considered important contributions to contemporary art trends.
Both Christova and Tomanović are nature-oriented. In fact, their art is reflected in Chagall's statement: "Where science ends, art continues."
Focusing on the microscopic scientific scenes of the "innards" of individual plant species and their artistic superstructure, Iglika Christova creates an image of entire nature. Working with the French biologist Claire Damesin, the Bulgarian artist focuses on the microcosm of trees. In her drawings, she further develops microscopic images taken by the French scientist. This results in two different structures (scientific and subjective) which, through a dialogue, lead to a single conclusion that individual natural structures are actually parts of the same, intertwined and interconnected, whole. Iglika Christova's works alert us to the unity of the world. This is her underlying comment and warning because, by adjusting to and protecting this system of nature, man gives his own survival a chance. At this very moment, increasingly and with more serious consequences, mankind faces the threat of numerous natural disasters. We have harmed nature, caused climate change and environmental pollution, so we truly need this kind of art. The ideas of Iglika Christova (and her science associates) are so engaging because they care about man's destiny and the future of the world.
Photographer Ivana Tomanović captures legible and visually articulated landscape scenes. Her photography features a structured and pure visual idea, reflected in clear shots. In her photos, natural thickets, various shrubs, branches and shoots look like a specific (plastic and mental) structure. In addition, the artist magnifies this multiplicity of linearity by adding the lines of thread or wire to the individual fragments of her photographs. This is how she enhances the impression of the linearity of photographed bushes and plants. In addition, these photographs are printed on a transparent base and are not displayed on the wall like classic pictures, but placed in space to allow the viewer to see both sides. Another essential part of her work is musical background, the sound that adds further ambience quality to the artworks. Thanks to this transparency and other elements (print, applications, sound, installation), the space in the photos is not only the environment in which they act, but rather a well-systematized articulation of photographic images imbued with real space, making them realistically, philosophically, poetically and metaphorically a part of the dialectical flow and character of the world we live in.
Iglika Christova and Ivana Tomanović reach similar, if not identical results and artistic messages through different processes. Proceeding from scientific and/or documentary facts and methods, the two artists display authentic artistic truths about the world and completely personalized aesthetic and ethical systems. And isn't this the very charm and essence of living? This is why this kind of dialogue at the Meander Gallery in Apatin was actually needed (Sava Stepanov).
Iglika Christova
Iglika Christova is a French-Bulgarian visual artist, currently living in Paris. She studied at the Sofia School of Fine Arts, and continued her education in France to improve skills and develop artistic practice at the École Supérieure des Arts Appliqués Duperré. This helped her express herself in interdisciplinary art encountered at the Visual Arts and Sciences of Art Department of the Université Panthéon-Sorbonne. The work of Iglika Christova encompasses theoretical and plastic study of the influence of microcosms on the creative process. Her artistic practice is based on drawing, as a universal and experimental language exploring the microcosm of living matter. Her research is partly in the sphere between art and science, and Iglika Christova, therefore, collaborates with biologists.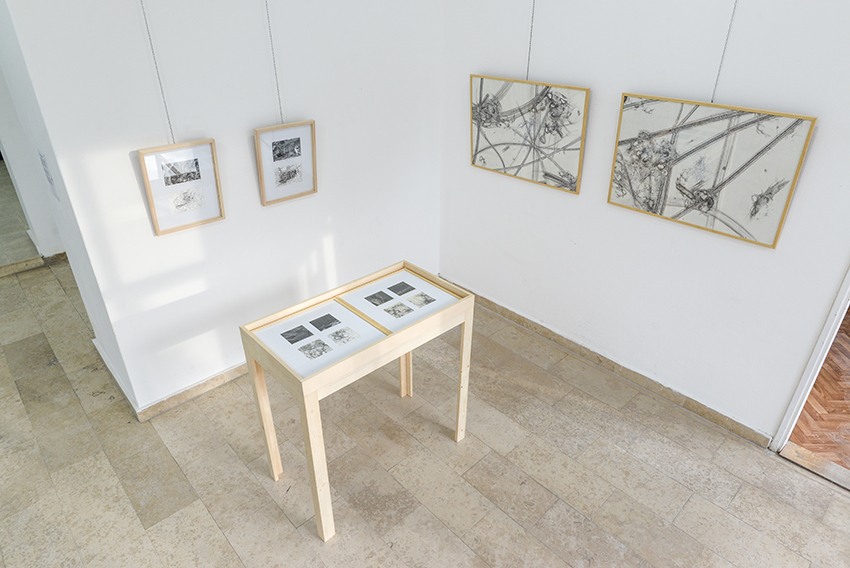 Ivana Tomanović was born in 1971 in Novi Sad. She holds a master's degree from the Faculty of Film and Television (FAMU) in Prague, Photography Department. From 2001 to 2015, she worked as an editor in the magazine for the culture of photography "ReFoto" (Belgrade). As an associate professor, she teaches photography at the Academy of Arts, University of Novi Sad, and the Academy of Arts at the Alpha University of Belgrade. She was an art director at Artget Gallery, Belgrade Cultural Center, for the season of 2016. She regularly lectures on photography theory and participates in numerous panel discussions at festivals, workshops and conventions dedicated to photography and visual arts. So far, she has published over three hundred texts in "ReFoto" magazine, and contributed to various exhibition catalogues, books, and magazines. She has been a judge at numerous exhibitions in Serbia and abroad. She is a representative of Serbia in the "Transeurope" project focused on European contemporary photography. Her photographic work is predominantly a reflection of her subjective research, involving documentary photography and staging.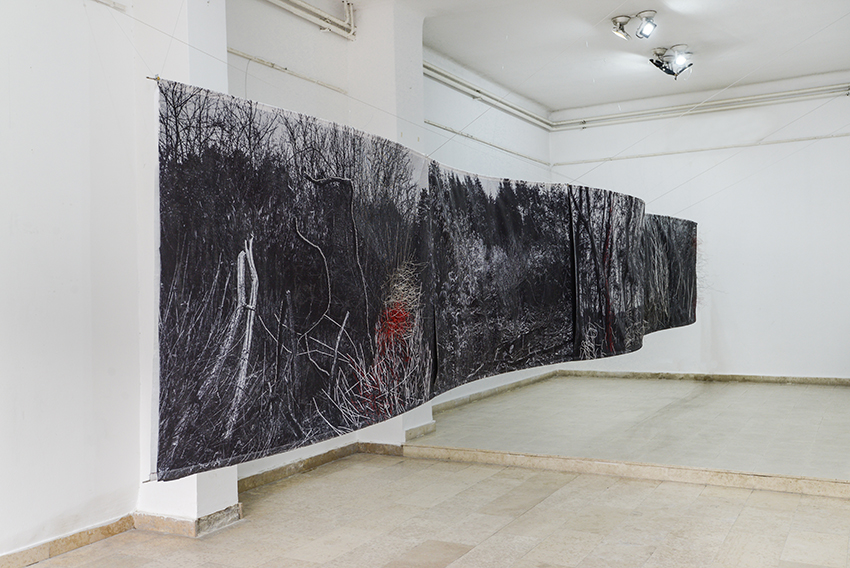 Following exhibitions at the Meander Gallery in Apatin, the National Museum of Veliko Gradište and the Blok Gallery in New Belgrade, the exhibits will be on display at a collective exhibition organised in the framework of the Dialogues Along the Danube: from Apatin to Kladovo, which will be opened at the Foreign Art Collection Gallery of the Novi Sad City Museum on September 16, 2019.