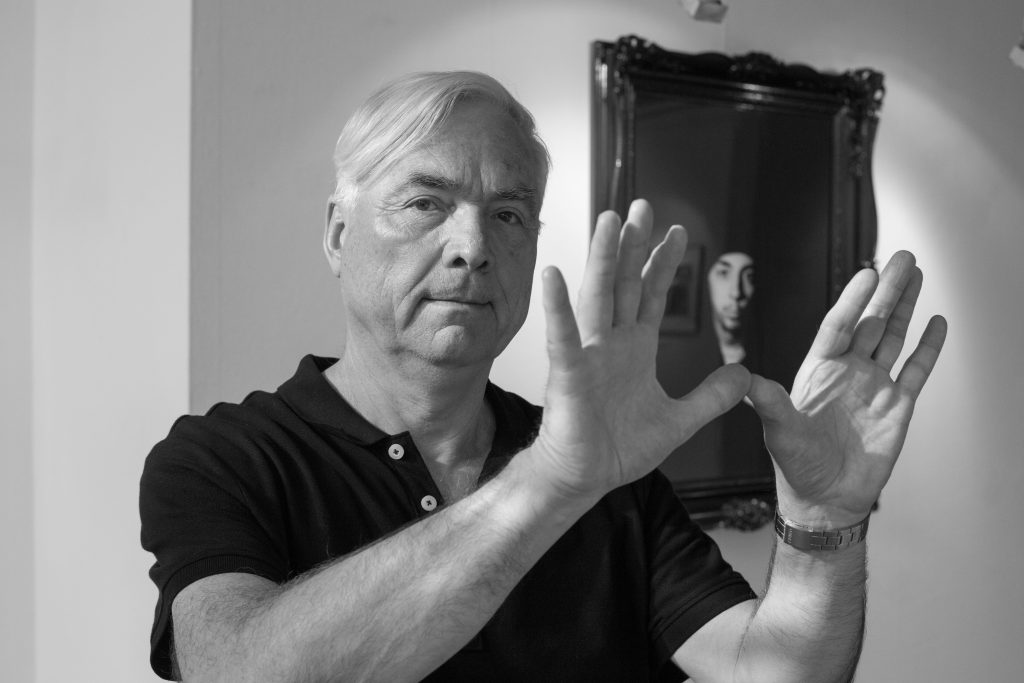 At this year's Danube Dialogues exhibition, you will be an active participant in the "Out of the centre" project as a selector and artist. You shall take over the role of one of guest artists born in Serbia who is currently working in Budapest alongside with Dejan Kaluđerović from Vienna, Olja Stefanović Trijaška from Bratislava and Milovan Destil Marković from Berlin. The guiding idea behind this concept is to inspire your selection that shall as such point out the international intertwining that exists through, because the project does not only revolve around domicile artists but also around "art-gastaerbeiter", about artistic immigrants, about migrations, about dissident point of views, about artists who sought adequate spiritual refuge… We are interested in how much, in your opinion, the narrative about the fate of Eastern European artists "fits" into these and such contextual situations?
My novel whose protagonist ventures out in the world from a small community, namely from a village that could be my birthplace, was published in Budapest eleven years ago. He travelled to Paris set in the timeframe around 1920s and, by coincidence, soon becomes an active participant of artistic events of that time, above all the relentless competition between Dadaists and Surrealists, that is, Tristan Tzara and André Breton. A better destiny cannot be imagined because it is a school of art and life that cannot be paid for with money. In the end, he returns disappointed and depressed because he recognizes the same archetypes in the personalities of the world's elite of intellectuals and creators of that time that he met in his province and from which he fled: petty lives, careerists, adventurers, and people of evil intentions…
The eternal question of "choosing to leave or stay" has never been more relevant than in today's era of global world. Some of our people returned, for example Šumanović and Konjović – in Hungarian art Kassák, while some choose not to return. One of them is László Kerekes, my first choice at the "Out of the centre" exhibition. He immigrated to West Berlin in 1986, where he died in 2011, and returned to Novi Sad on two occasions for a short while, at least as far as I know. Although the trace and presence of the "spiritual homeland" in his work in exile was profound and constantly present, to the point of obsession. He suffered abroad, but still decided to spend his days in exile. He drew entire series of works dealing with the fate of nomadic peoples, such as the Avars. Already while living in Novi Sad's Ribnjak, he dedicated a large number of paintings to the Danube River, the great road of Europe in the style of new expressionism and new wild ones.
My second choice is József R. Juhász, a Hungarian artist from Slovakia. It is worth knowing that in the late 80's he started an international multimedia festival in the town of Nové Zámky, which became the most important gathering place for artists of action and performance in Central and Eastern Europe. Juhász himself grew into an international figure of these types of arts, embodying a contemporary nomadic artist who is everywhere in the world but not at home. In fact, the notion of "house" has become completely irrelevant in his case – his house is the whole world. Just these days, he returned from Mexico, where he stayed for nine months, performing and organizing art workshops. The artist will be presented in Novi Sad with an Art of Action in the flooded Danube near Budapest.
Although you have been living outside your domicile environment for more than two decades, you are visibly present at exhibitions depicting retrospective settings, solo exhibitions and presentations of current art. As an artist, does this dual situation suit you?
Everything suits me that allows me to express myself, to "actualize myself". I have been on the road since the beginning of the 70's, but I like to have a constant base of operations. Nowadays, the base is set up in Budapest, but I am still open to another solution. The mobility does not present an obstacle for me yet.
You probably remember the video work in which I pee over the Serbian-Hungarian border. However, the history is cruel and has once again shown that things do not go as I think but as others think. The same border was reinforced with a metal fence.
In 2019, at the Subotica City Museum, I performed "On the Line", which touches upon this dual situation of consciousness. While I lived in Subotica, that awareness, due to the physical proximity of the border, was present in my everyday life: the meeting of two cultures and the conflict of two cultures. The both cultures meant a lot to me. I would not be the same person I am without South Slavic culture.
Your art has always had a clear activist and engaged attitude towards the world in which we live. It is obvious that today's world is going through a period of expressed crisis. Whether and how the current crisis is projected in your recent works. In fact, "What do we do now?" as the singer and performer Konstrakta asks at the end of her song in the current music hit "In Corpore Sano", which will represent Serbia at this year's Eurovision.
I have relatively recent works from the period 2019– 2022 that have not yet been shown. There is a cycle on the topic of Covid composed of mixed media. I have prepared the works, partly in collaboration with Edita Kadirić, for the upcoming exhibition "Silent Recovery" whose idea comes from the curator originating from Subotica Nela Tonković and includes eight contemporary artists from Vojvodina.
On May 1st exactly on the 50th anniversary of my work "Lenin in Budapest", I realized a cycle of analogue photographs called "Putin in Budapest" next to the monument to the anti-Soviet revolution of 1956. The work is so fresh that the developed film negative is just coming out of the laboratory.
It's been 50 years and it's as if nothing has changed…
Budapest, May 4th, 2022