Artists: Sanja Radusin / Peter Jecza,  Nataša Teofilović / Ioan Aurel Mureșan, Vladimir Tatarević / Ana Adam
Museum of Contemporay Art of Vojvodina, Dunavska 37
Curators: Sorina Jecza Ianovici (Timișoara), Sava Stepanov (Novi Sad)
Exhibitions envisaged as "dialogical" meetings of Serbian artists and artists from the countries of the Danube region, stand out as a distinct conceptual feature of the Festival` s diversified programme. The encounters of Romanian and Serbian artists have a long history, thanks to the Festival in which Romanian artists have been participating since the very begining, but most due to the exceptional cooperation of the Bel Art Gallery and its partners from Timisoara, namely Triade Foundation and Jecza Gallery.
With the exhibition of works by sculptor Peter Jecza, painter Ioan Aurel Mureșan and multimedia artist Ana Adam from Romania and young sculptor Sanja Radusin, multimedia artist Nataša Teofilović and photography artist Vladimir Tatarević from Serbia, the curators Sorina Jecza Ianovici and Sava Stepanov tried to show some of the phenomena characterizing their present artistic milieu.
As it turned out, the works of these artists, coming from different generational backgrounds and with distinct artistic expressions, are in line with today`s scattered art. In a very special way these artists search for true aesthetic and ethical answers to the challenges of present world filled with a global sense of insecurity.
Danube dialogues 2020 presents artists: Ioan Aurel Mureșan (ROU) and Nataša Teofilović (SRB)
Nataša Teofilović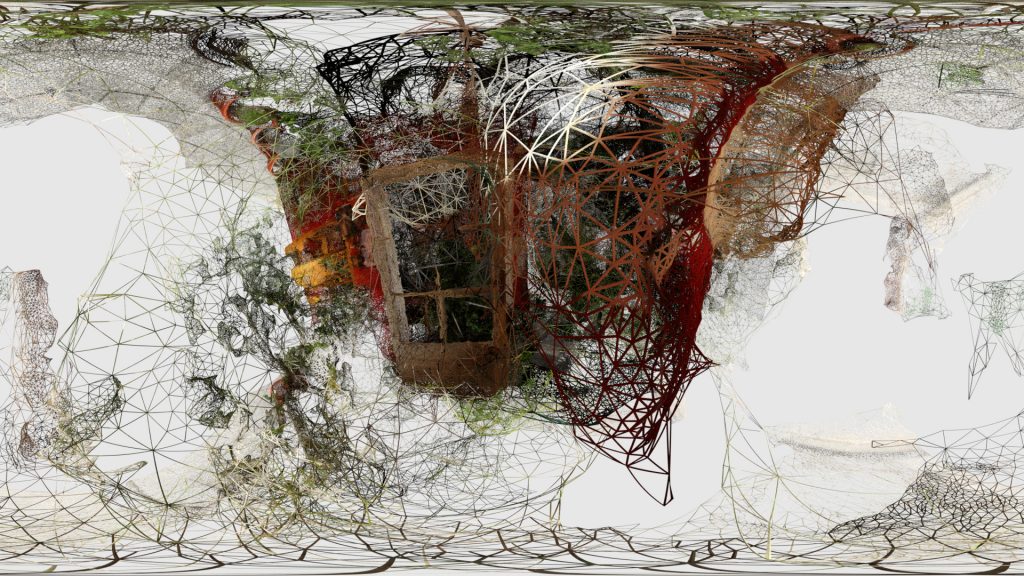 Artist's Statement:
autobiography | silence
"When I started to live on my own, I decided to renovate my old family house. The space in which generations have lived carries the traces of the former household members, the former life. Memory is subjective and can only be reconstructed in fragments, and, each of the former household members would describe and roam through this space in a different way and along different path. Hence this virtual space is fragmented as if we have the vision of several different people at the same time.
For the last 15 years I have grown roses and basil that are about 40 years old. The missing fragments of the house have been replaced in the animation by the plants from the garden. Space is being reconstructed, life is being restored.
autobiografija | tišina (autobiography | silence) is a 3D animation done in VR animation technology, i.e. 360 videos, but is shown as a classic animation because the 360 video creates the whole space in each frame of the animation, and the space is metaphorically wrapped around us though we still remain in 2D image. From white to white."
Link – autobiography | silence: https://vimeo.com/363998868
Nataša Teofilović is a visual media artist. Her artistic approach evolved from neo-conceptual art in early 90's to digital art of new century which merge art, science and technology. Technically speaking, she works in diverse media including experimental video, 3D animation performance, digital ambiances and generative art. Conceptually, this works are connected with topics of the representation of senses in media art, identity in the void of virtual space, the perception of virtual beings and the boundaries between virtual and real spaces. Her digital works belongs to category of interdisciplinary, hybrid and intra-active art.
She won an honorary mention award in the Prix Ars Electronica 2016, an honorary mention award at the international competition for digital art of the European Organization for Nuclear Research – CERN (Geneva) and the Ars Electronica festival (the first Prix Ars Electronica Collide@CERN) and her work was in Jury Selection Award at 15th Japan Media Arts Festival, Tokyo, Japan 2011. Also her work was included in the collection of the digital art museum Ars Electronica, Linz during 2007-2008.
Nataša Teofilović was the first person in Serbia to earn a doctorate degree in Digital Art (Interdisciplinary Studies of the University of Arts in Belgrade, 2010). At the same university, she received a master's degree (2007), and graduated as a valedictorian from the Faculty of Architecture at the University of Belgrade. She is the author of the first book published in Serbia that explores the theory and practice of the 3D character animation (computer animation of a humanoid) and places special emphasis on the analysis of the author's animation through which she explores the manifestation of her own virtual female body in a computer generated space. She is an associate professor at the Faculty of Media and Communications 'Singidunum' in Belgrade. She lives in Pančevo, Vojvodina, Serbia.
Ioan Aurel Mureșan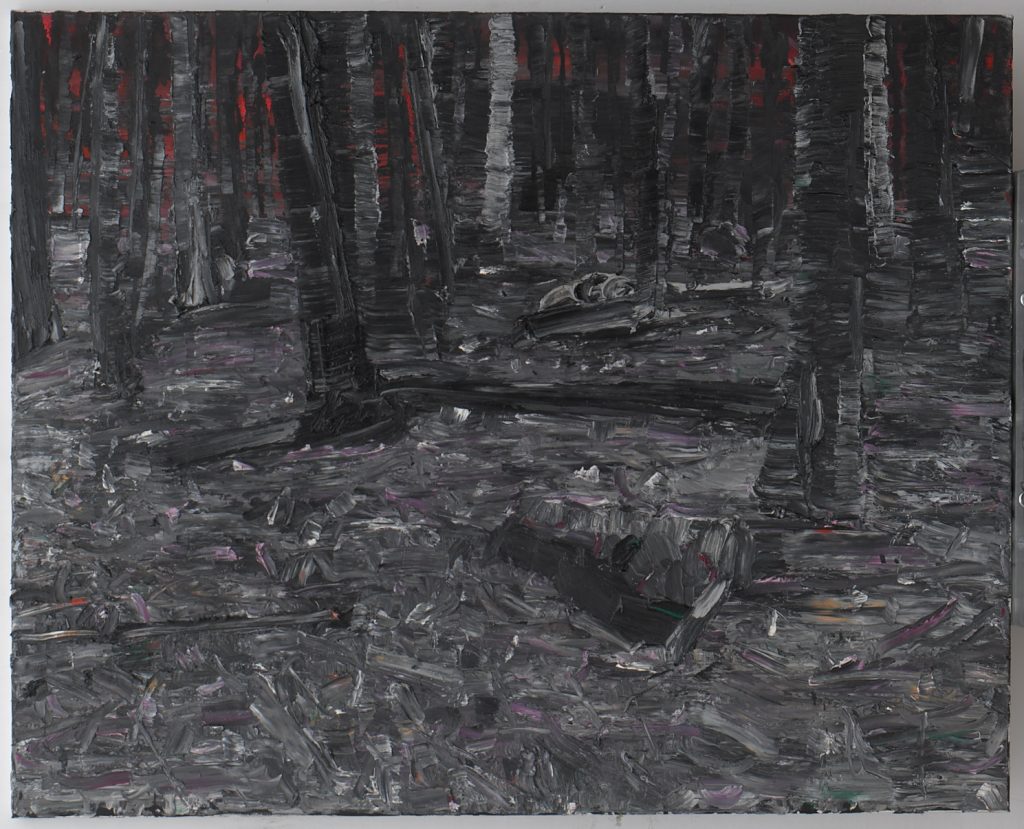 Artist's Statement:
"The painting is, to me, like a journey: a journey to our inner Persia. Every journey to itself, to the center, has sinuosities, unfolds in the form of a lost way and is constituted, through the cutting of the stations, of the stops, in enigmatic geometry – that is, the Labyrinth. The center – our inner self – can be anywhere – that means, everywhere. The purpose of the journey has an asymptotic character, any initiatory and revealing touch becomes, curiously and inexplicably, a new beginning. "I am not from this world," said the Prophet. If we start from this premise, the reality can be acceptable, even pleasant. And our passage through, however, a curious, even delicious visit. I would call it a "magical journey". The journey of the Duke of Ivry is the journey of each of us; the psychological and narrative sinuosities, the mnemonic and fictional ones, the anecdotal or symbolic ones (in the purest sense of the term) are intertwined in an unbreakable knot. I mean, a Gordian knot."
Ioan Aurel Muresan was born on 1956. Graduated of the Academy of Visual Arts Cluj Napoca. He has PHD degree in visual arts and he is University professor at the University of Visual Arts and Design Cluj Napoca.
Solo Shows:
2019 Art Museum Oradea / 2016 Zorzini Gallery Bucharest / 2002 Crescent Theater, Birgmingham, UK / 2000 National Art Museum Cluj-Napoca / 1998 National Theater Galleries Bucharest / 1997 Art Museum Oradea / 1996 National Art Museum Cluj-Napoca / 1992 Odeon Gallery Bucharest / 1984 Făclia Gallery Oradea / 1984 Orizont Galleries Bucharest / 1981 UAP Galleries Oradea.
International Exhibitions:
2017 Pecs Gallery, HU / 2011 Debrecen, HU / 2004 Art Triennial Debrecen, HU / 2003 Painting Triennial, Przemsyl, PL / 2002 L 'Ecole des Beaux Arts, Liège, BE / 2001 Bad Kissingen, DE / Amsterdam, Holland / Budapest, HU / 1999-2000 Arts Europe, Mercato 2000, Directed by Emilia, IT / 1999 Budapest, HU / Chateau "La Gruyère", SZ / 1995 DE / 1994 Romanian Cultural Center, Paris, FR / 1992 Lisbon, PT / Vac, HU / 1991 A XXI Sao Paolo Art Biennial, BR / 1990 Szombathely, HU.