Nicole F. Loeser, curator; photo courtesy of the Festival
Curatorial concept and moderation: Nicole F. Loeser
(September 17, 2019, MSUV, Novi Sad)
The central exhibition of the Danube Dialogues 2019, entitled Perception of Contemporaneity – the Universal Sea, was organized in co-operation with the Museum of Contemporary Art of Vojvodina, Novi Sad. In the period 17-30 September 2019, the Museum displayed virtual reality artworks, interactive works, videos, site-specific installations and artistic objects by various artists, including Roman Kroke, Jovana Popić, Lana Čmajčanin, Erika Kapronczai, Júlia Végh, Christa Sommerer, Loren Minjono, Miloš Trakilović, Mariam Zakarian, Sanja Latinović, Albena Baeva, Robertina Šebjanič, Aleš Hieng-Zergon and Ida Hiršenfelder, selected by curators Sanja Kojić Mladenov and Nicole F. Loeser.
Prior to the opening of the central exhibition, a panel discussion was held at the Museum's cinema hall, moderated by German curator Nicole F. Loeser. After the welcome address by the director and founder of the Danube Dialogues Festival, Vesna Latinović, and the introductory speech by Mr. Loren Vig (Provincial Secretariat for Urbanism and Environmental Protection), expert presentations by Nevenka Nikolić (Public Water Management Company Waters of Vojvodina), Jugoslav Kaurin (Greentech Ltd.) and Danijela Stojković (Non-governmental Organisation World and the Danube), the latest artistic practice was presented by the following international artists using the Pecha-Kucha model of presentation: Albena Baeva (Bulgaria), Mariam Zakarian (Denmark), Ede Sinkovics (Hungary/Serbia), Roman Kroke (Germany), as well as the Senior Curator of the Museum of Contemporary Art of Vojvodina, Sanja Kojić Mladenov, PhD, and Sunčica Pasuljević Kandić from the Department of New Media, Academy of Arts in Novi Sad.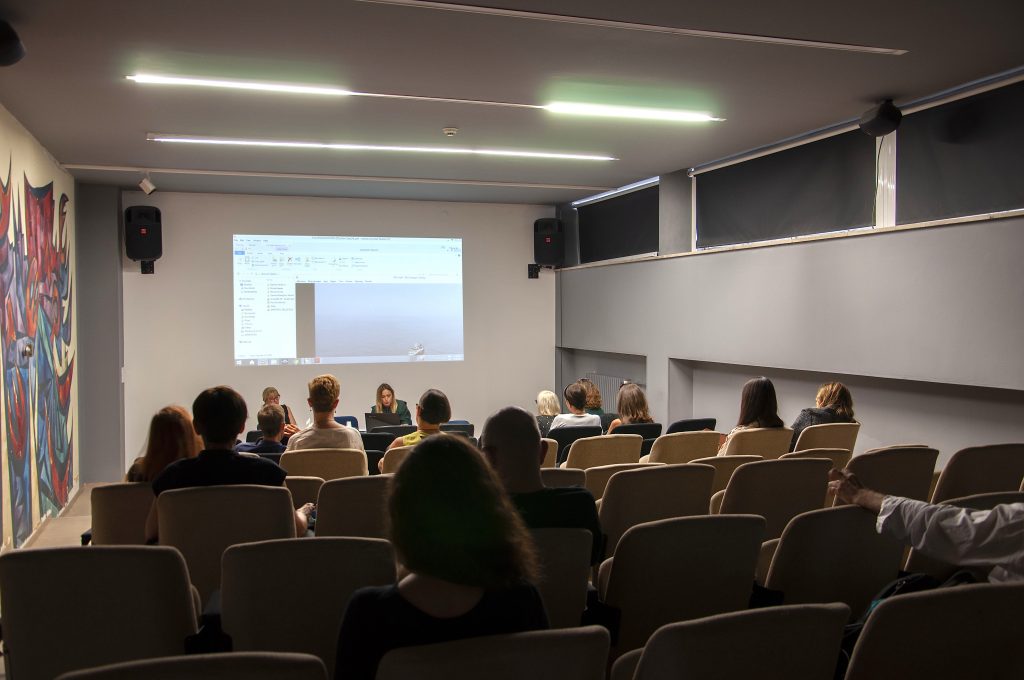 The panel discussion focused on the examples of the contemporary art and science practices, sharing experiences and linking the spheres of society, science and art with a clear idea and message regarding ecological discourse, problems and awareness of the importance of water and natural ecological environment, bearing in mind that the concept of the central exhibition of the Danube Dialogues 2019 was the Universal Sea project, an interdisciplinary artistic and innovative concept fighting against water pollution and exploring models of co-operation within different social groups, science, technology and business.
While expressing concern about the environmental situation and the impact of pollutants and waste disposal in the Danubian region, the participants of the panel emphasised relevant problems, as well as examples of encouraging social and artistic practices. The inclusion of interdisciplinary, artistic, creative research and practice in the production of knowledge and the use of different forms and methods of artistic research in creating new opportunities for co-operation aimed at solving the problem were some of the issues also tackled.
The panel discussion attracted the attention of experts, artists and media following the panel and the opening of the central exhibition, which took place after the panel entitled the Universal Sea.
Ljiljana Maletin Vojvodić