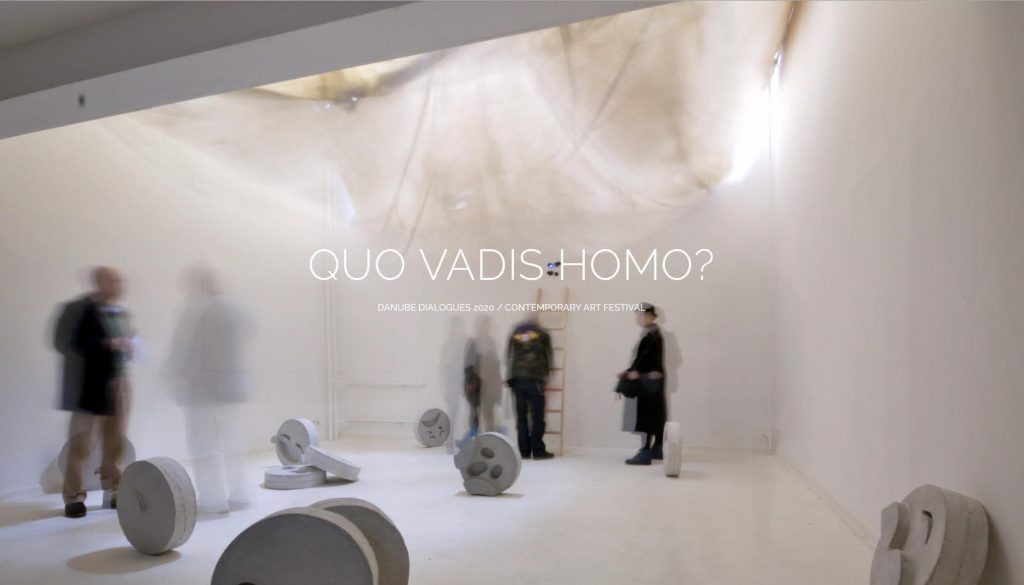 DANUBE DIALOGUES 2020
ARTISTS:
Antal Lakner, Ana Adamović, Tatjana Danneberg, Pusha Petrov, Oto Hudec, Ivan Moudov, Oleksiy Sai, Alexander Tinei, Ottmar Hoerl, Ana Josipović, Orjen Đurić, Milena Milosavljević − Peter Jecza, Sanja Radusin, Ioan Aurel Muresan, Nataša Teofilović, Ana Adam, Vladimir Tatarević − Mića Stajčić, Vuk Ćuk, Veroljub Naumović
Dear friends and associates,
The 8th edition of the Festival of Contemporary Art Danube Dialogues 2020 takes place in Novi Sad in the midst of global uncertainty caused by the corona pandemic, confronting us with unexpected challenges. Soon after the crisis broke out, the festival team, together with the curators, decided to continue its preparations for the festival, convinced that one must act regardless of life circumstances. This encouraged artists and brought about optimism and hope, offering new creative impetus at a time when museums and galleries around the world were closing and exhibitions, fairs and art events were being cancelled one after another. We have endeavored to adjust the festival programme to these new conditions, prepared alternative options and developed an online platform for presenting artistic content to the public. The theme of this year's festival 'Quo Vadis, Homo?', suggested last year by the artistic director Sava Stepanov, fully reflects the present moment of grave concern for human destiny. Life has no alternative, and adapting to the circumstances is a prerequisite for our survival. The first step, of course, is to learn to live with the virus, respecting all the necessary protection measures in order to achieve some new normalcy.
We look forward to meeting you again, believing in the vitality and strength of artistic messages. We invite you to follow our programme in vivo and online, and to share with us your impressions of the exhibitions where artists from the region express their concern for man and his destiny.
Stay healthy! Live with art!
See you soon!
Vesna Latinović, Director, Danube dialogues
________________________________________
PROGRAMME
Founding Director: Vesna Latinović
Artistic Director: Sava Stepanov
QUO VADIS, HOMO?
Openings: September 8, Novi Sad
Central Exhibition: QUO VADIS, HOMO?
Fine Arts Gallery of the Rajko Mamuzić Gift Collection, Vase Stajića 1
Curators: Ami Barak (Paris), Sava Stepanov (Novi Sad)
ARTISTS: Antal Lakner HUN, Ana Adamović SRB, Tatjana Danneberg AUT, Pusha Petrov ROU/FRA, Oto Hudec SVK, Ivan Moudov BGR, Oleksiy Sai UKR, Alexander Tinei HUN/MDA, Ottmar Hoerl DEU, Ana Josipović CRO, Orjen Đurić SRB, Milena Milosavljević SRB/DEU
Art Dialogues Timisoara/ Novi Sad
Museum of Contemporary Art of Vojvodina, Dunavska 37
Selectors: Sorina Jecza (Timisoara), Sava Stepanov (Novi Sad)
ARTISTS: Peter Jecza ROU / Sanja Radusin SRB; Ioan Aurel Muresan ROU / Nataša Teofilović SRB; Ana Adam ROU / Vladimir Tatarević SRB
Mića Stajčić, Bel Art Gallery, Mihajla Pupina Blvd.17
Selector: Ksenija Marinković
Vuk Ćuk, Gallery of the Vojvodina Fine Artists Association, Mihajla Pupina Blvd. 9
Selector: Ljiljana Tadić
Veroljub Naumović, Mali likovni salon, Mihajla Pupina Blvd. 9
Selector: Vesna Latinović