The Danube Dialogues is an international festival of visual arts from the countries of the Danube region that celebrates and promotes contemporary art, cultural identity, collaboration among artists and the latest in individual creative practice. Since its launch in 2013, over 400 artists, curators and critics have taken part in the Festival.
In anticipation of this year's event, we look back on impressions from previous years as we talk to founder and director, Vesna Latinović.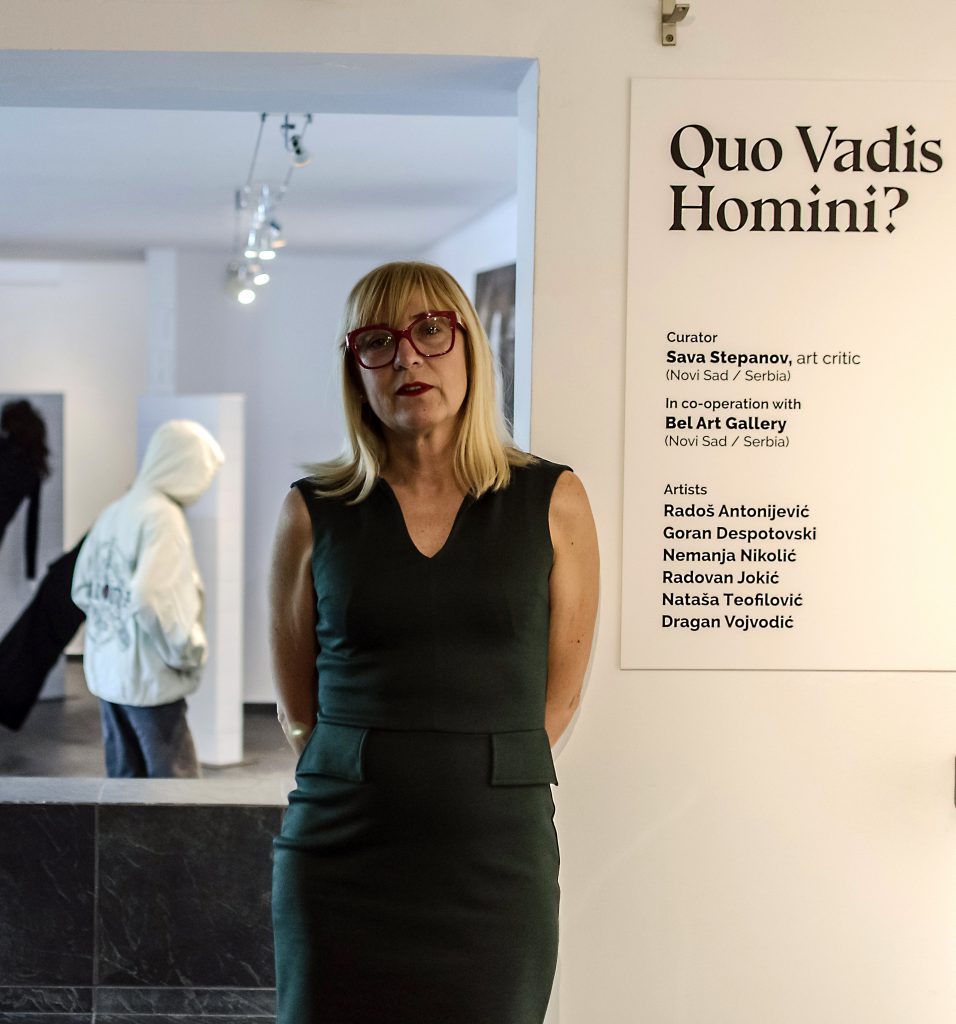 DD: Today, the Danube Dialogues is a well-respected cultural event. But how did it all begin? What gave you the idea of launching a festival of this kind?
Vesna Latinović:The reason we started the Festival in 2013 was because we wanted to see local art represented in what was going on in the region and beyond. Novi Sad has a rich heritage of fine arts, but here we were, on the threshold of the 21st century, with no significant international exhibition of contemporary art to show for it. The Bel Art Gallery set up its own international exhibition exchange in 2007 when it began to work closely with curator Márta Szilágyi of the Budapest Erlin Galéria. As it turned out, there were other compatible private galleries out there, eager to be included in local and international events. This led to an exchange of exhibitions between Novi Sad and Budapest, and in 2010 Bel Art Gallery partnered the Plein Art Festival organized in Budapest by the Erlin Galéria, where we showed recent works from Serbia, with group and solo exhibitions by Dragan Vojvodić, Andrea Ivanović Jakšić, Danijel Babić, Mira Brtka, Sibila Petenji, Tadija Janičić, Nenad Bogdanović and Milan Blanuša. Co-operation continues to this day. In 2012, for instance, we organized four parallel exhibitions here in the gallery and alternative spaces of the Old Garrison Town below the Petrovaradin Fortress − where an artist from Budapest and Novi Sad exhibited in tandem, in other words four artistic "dialogues": Peter Markus and Mira Brtka at the "Brtka Kresoje" Foundation Gallery, Bálint Szombathy and Lazar Marković at the "Gradić" Gallery, Simon Kaci and Maja Erdeljanin at the Jelačić Croatian Art Society, and Pavle Jovanović and Aniko Robitz at the Istrian Cultural Centre Gallery. We called this event Danube Dialogue: Novi Sad Budapest. Our idea was to link artists with similar (or differing) concepts, who had never before exhibited together and did not even know each other. The result was compelling and in the spirit of the times, the various approaches converging in a harmonious reaction to the challenges of our age. Audience response to the ideas was enthusiastic and the outstanding surroundings of the Old Garrison Town contributed to the atmosphere of the festival. This, and the fact that the artists themselves were pleased with the outcome, encouraged us to organize the very first Danube Dialogues 2013 Festival of Contemporary Art the following year, to which we invited curators, galleries and artists from all over the Danube region.
DD: How much has the Festival developed and changed in artistic and organisational terms compared to 2013 when it was launched?
Vesna Latinović: The festival develops in a natural rhythm, in keeping with its basic concept. Each year brings something new that keeps it interesting. Ever since the "dialogue exhibitions" of Serbian and Hungarian artists in the Old Garrison Town of the Petrovaradin Fortress which started the whole thing off, we have been constantly striving for an event that would inform of the relationship between contemporary art and the world in which it originates. The decision to choose artists from the Danube region provides a great diversity of representation, because, thanks to its geography, countries in this part of Europe – from Germany to Moldova and Ukraine – vary widely in terms of development or their particular stage of prevailing neoliberal capitalism. That is why our exhibitions are named for current topics such as: Art and Crisis, Art in the Age of (Non)emotionality, Art and Global Insecurity, The Use of Man, Perceptions of Contemporaneity and so on. These topics are not obligatory, but appear as a kind of leitmotif for each exhibition, while selectors and participants have carte blanche to develop them as they see fit. The basic idea of our art director, Sava Stepanov, and myself is essentially homocentric − Danube Dialogues that discuss the fate of "today's man, whose soul is in perpetual torment", to quote Serbian-Hungarian artist Bálint Szombathy.
DD: Art critic Sava Stepanov has been the Festival's artistic director from the outset. However, the curators of last year's central exhibition were Sanja Kojić Mladenov and Nicole Loeser from Germany, while the theme Perception of Contemporaneity − the Universal Sea focused on issues of ecology and environmental protection. When selecting a theme for the Festival, how important is it for you to question current issues and do you consider gender discourse when selecting artists and curators?
Vesna Latinović: Let me just remind you that this is not the first time the central exhibition was curated by guests from abroad. In 2015, it was co-curated by Hartwig Knack from Vienna and Vladimir Beskid from Kosice, Slovakia, together with Sava Stepanov. Last year, Nicole Loeser, Germany, and Sanja Kojić Mladenov, Novi Sad, created an exhibition that gave wide-ranging consideration to the global ecological problem. It included performative reaction, installations, electronic simulation, interpretation with contextual marking and philosophizing of reality. It showed how contemporary art engages with and re-examines existing value systems in relation to ecology and environmental protection. Artists with their interdisciplinary and broad-minded way of thinking can initiate debate and provide non-verbal but emotionally powerful metaphors for understanding the present times. To be honest, we did not insist on the specifics of gender discourse, but we did know that Sanja Kojić Mladenov is one of our leading art theorists in the field, just as we were familiar with the similar commitment of Nicole Loeser. It turned out that the exhibition provided a convincing picture from this point of view as well.
DD: Why will you remember the Danube Dialogues 2019?
Vesna Latinović: The Festival's characteristic feature are the artistic dialogues. This time, they took place in smaller towns and cities along the Serbian bank of the Danube, the choice of Artistic Director Sava Stepanov. This extended their effect while redefining their reputation and influence. Exhibitions entitled Art Dialogues along the Danube: from Apatin to Kladovo were organised during the summer in Apatin, Novi Sad, Novi Beograd, Viminacium, Veliko Gradište and Kladovo.[1] This series of exhibitions brought freshness and a new perspective to the Festival, enabled national visibility and certainly contributed to cultural decentralization. Meetings with audiences in smaller communities, where international art programmes are not an everyday feature, revealed a number of keen, not to say passionate, art lovers and skilled professionals who, despite the shortage of exhibition venues and financial resources, were achieving excellent results.
The Power of Silence: Chinese Contemporary Art on the Silk Road was a guest exhibition which lent an unwonted touch to last year's Danube dialogues. This was a new programme entry, Guest Country, the upshot of contacts formed at the 16 + 1 Culture Conference in Cheng Du in 2018. Audiences in Serbia had the unique opportunity of seeing works chosen by the renowned Chinese curator, Xiao Huang, whose selection included recent works by fifteen Chinese artists.[2]
DD: The "dialogues" between local artists and others from the Danube countries are key to The Danube Dialogues. But you have also presented artists from Serbia in other countries and arranged many foreign exhibitions. To what extent does internationalization of the cultural scene affect local artists and curators?
Vesna Latinović: Contemporary art is pluralist, diverse and interdisciplinary and is constantly questioning value systems and boundaries, so practice nowadays develops through communication, exchange and networking. International collaboration, especially when based on practice, whether historical or contemporary, provides vital opportunities for the exchange of experience and opinions. The Danube Dialogues carefully pursue and expand co-operation with artists and institutions in other countries. When setting up exhibitions here, we have worked with numerous local educational and cultural bodies, and 15 galleries, institutions and art organizations from the Danube region. This enables an on-going exchange of knowledge, practice and experience and contributes to the professional level of the Festival. The Co-operation Extended programme refers to projects and initiatives resulting from contacts made at the Danube Dialogues. This aspect is becoming increasingly important as it provides artists here with the opportunity to show their works abroad via a reciprocal co-production model. So far, 21 such exhibitions have taken place, the highlight being in 2014 at the Kustlerhaus in Vienna: Blood/Premonition/Hope – Art in Vojvodina and Serbia from 1914 to 2014. Thanks to the involvement of 82 artists, it marked the centenary of World War I and illustrated an entire century of Serbian art.
DD: Through the Danube Dialogues, you discover the international scene while bringing it closer to audiences here and putting Novi Sad, Vojvodina, Serbia on the cultural map. How much support do you have for this? What do the audience figures look like?
Vesna Latinović: The Danube Dialogues project is gaining a growing reputation and has been noted by numerous institutions and at cultural events at home and abroad. At the invitation of the Chinese Ministry of Culture and Tourism, the project was successfully presented in China in 2018 (The Second China and Central and Eastern European Countries Arts Cooperation Forum, Chengdu, June 2018), Budapest (Bridge Conference, September 2018, Art Market Budapest October 2018 ), Sofia (Annual Forum of the EU Strategy for the Danube Region, October 2018), and in Belgrade (Serbian Visions conference, November 2018 and a panel called "Presentation of Serbian Visual Arts Abroad – Perspectives and Models" at the Serbian Academy of Sciences and Arts, December 2018). Last year, the project was presented in Ulm, Germany, and we are particularly proud that it has been nominated for the ICOM (International Council of Museums) Annual Award, in the international cooperation projects category.
The Danube Dialogues have undoubtedly established themselves as a unique project both in Serbia and internationally. However, an event of this kind sets high professional and organizational standards and requires the continuing support of the relevant institutions, sponsors and friends of the Festival. Here I would like to point to the backing and solidarity we have received from our colleagues and cultural bodies in Novi Sad who have generously given us the use of their premises in a spirit of partnership, as well as the understanding of sponsors and many friends without which the Festival could not survive. I owe special gratitude to Erste Bank and the Austrian Cultural Forum, who have supported us from the first, and I hope that the Goethe Institute, whose assistance we have received for the first time this year, will do the same.
As far as audiences are concerned, they are diverse and numerous. The number of guests from abroad who are not part of the festival is clearly on the increase. These are usually associates or participants from previous years who enjoy the idea, the spirit and the atmosphere and pass on their impressions to their friends whom they bring along. We are often contacted by artists who want to participate in the festival. Audiences in Novi Sad and the media have maintained their interest. We are also pleased to see increasing numbers of young people at exhibitions and more and more followers on social networks. As far as public interest in Danube Dialogue exhibitions in smaller towns is concerned, we were impressed by the numbers of people in Staro Gradište and Kladovo who were very interested indeed. Since part of the programme is held outdoors and we organize accompanying events, our exhibitions have thousands of visitors.
DD: The focus of your interest includes fine art and visual arts, cultural management, international co-operation and cultural diplomacy. You were a member of the Novi Sad European Capital of Culture 2021 application team (2016-2017). Do you expect that gaining the title will have a positive influence on the further development of the Danube Dialogues?
Vesna Latinović: I am convinced that the Novi Sad European Capital of Culture (ECoC) 2021 project will contribute to the development of The Danube Dialogues because they are closely related. The Novi Sad 2021 concept is to a great extent based on Danube identity, cultural, historical and geographical links, and regional co-operation. Due to the presence of all these, the whole region is a colourful meeting place of cultures, languages and nations. If the Danube illustrates the diversity of Europe, Novi Sad certainly illustrates the diversity of the region. Situated as it is, equidistant from the river's source and its estuary, in mid-course as it were, Novi Sad is a bridge between East and West, between the developed European countries and those still in transition. Due to the reputation and importance of the ECoC, the Danube Dialogues as a project with a strong European dimension will be able to bring significant artists and curators to Novi Sad in 2021, which will give the Festival additional visibility and attractiveness. Furthermore, the network of over 30 organizations and institutions and over 400 artists, curators and others who have taken part in the Dialogues to date is an important international base for promoting Novi Sad as European Capital of Culture. A good example of this kind of co-operation is the Timisoara – Novi Sad Art Dialogues, which are moving ahead with the support of the Novi Sad 2021 Foundation. This fosters constructive dialogue between artists, gallerists, curators and other bodies in Novi Sad and Timisoara (Romania), historically, culturally and geographically close neighbours who will share the ECoC title in 2021. These are just some examples of the Festival's role in the European Capital of Culture project, which we see as a potential catalyst for positive change and the internationalization and development of the local cultural sector – a lynch-pin of the whole idea.
DD: Finally, can you tell us something more about your ideas for the 2021 Danube Dialogues?
Vesna Latinović: Because of the corona virus pandemic, plans everywhere are in abeyance. At the moment, nothing looks certain and exhibitions, events and art fairs around the world are being postponed. In light of this, I sincerely hope that we will be able to organize the festival as planned in September this year. The theme proposed by Art Director Sava Stepanov is Quo Vadi Homo? suggesting concern for modern man's status and existence, the most pressing issue of our time. Never before has human existence been as comprehensively and globally threatened as it is right now. Curators of this year's (2020) central exhibition are prominent French curator and art critic, Ami Barak, and our own Art Director, Sava Stepanov. The dialogues will be between Serbian and Bulgarian artists, curated by Nadezhda Dzakova, Director of the Arsenale Museum of Contemporary Art in Sofia. Under the auspices of the Novi Sad 2021 Foundation, Art Dialogue Timisoara – Novi Sad continues its collaboration between next year's two European cultural capitals. A new departure of this year's festival is Country in Focus: Slovenia – a presentation of the Slovenian scene in co-production with the Equrna Gallery, Ljubljana. We are, of course, planning a varied accompanying programme. However, what we can actually do will become clearer only after the lifting of the state of emergency and the restoration of normal communications in Serbia and the region. I hope that the situation with the corona virus will soon be overcome and that in the course of the summer we will be able to announce our detailed programme for The Danube Dialogues 2020.
Interviewer: Ljiljana Maletin Vojvodić
---
[1] Apatin: Iglika Christova (Bulgaria) – Ivana Tomanović (Serbia); in Novi Sad: Vladimir Frelih (Croatia) – Dragan Matić (Serbia), Patricija Gylite (Germany) – Radoš Antonijević (Serbia) and Rudolf Sikora (Slovakia) – Nemanja Nikolić (Serbia); in Novi Beograd: Kramar (Austria) – Branimir Karanović (Serbia); at the archeological site Viminacium: Pavlo Makov (Ukraine) – Čedomir Vasić (Serbia); in Veliko Gradište: Ana Adam (Romania) – Lazar Marković (Serbia), and a street exhibition of Hungarian artistic flags in Kladovo (Márta Makkai, Andrea Ruttka, Andrea Szilágyi, Nóra Fekete, Eszter Söptei, Villő Steiner) and Serbian artists (Danica Bićanić, Goran Despotovski, Danica Jevdović, Bosiljka Zirojević Lečić).
[2] Jia Shanguo, Li Jie, Li Shun, Liu Ke, Liu Zhaowu, Qiu Anxiong, Su Xing, TAMEN +, Tian Wei, Wang Changming, Wu Xiaohai, Zeng Xi, Zhang Chun, Wang Bing and Zhao Siqing.