On Thursday 28 August from 17:00–19:00, THINKtent will be performed as part of the DANUBE DIALOGUES in Novi Sad – in the courtyard of the Gift Collection of Rajko Mamuzić, Vase Stajića 1.
THINKtent Danube Dialogues will explore the topic Danube Cultural Identity – Does Art Really Talk Across Borders? It will feature leading artists and curators from the Danube countries participating in the DANUBE DIALOGUES – Austria, Hungary, Croatia, Slovakia, Germany, Ukraine, Bulgaria, Romania and Serbia.
THINKtent is a travelling tent that provides an intimate, beautiful and safe space for people to come together for conversation and reflection.
THINKtent allows people to slow down and exchange views and ideas – away from the relentless distractions of smartphones and social media.
THINKtent generates dialogue and playful exchange – not lectures or strict instruction. It takes conversation to the people.
THINKtent is global and local.  It treads lightly, and floats across borders.
THINKtent is the brainchild of strategist and thought leader Natasha Cica.
Born in Australia and of Balkan origin, Natasha recently was recognised as one of Australia's 100 Women of Influence by the Australian Financial Review and Westpac banking group.   She is the founder of new venture Kapacity.org, which operates globally to deliver capacity building and dialogue-based development – with expertise in leadership, justice, society and culture.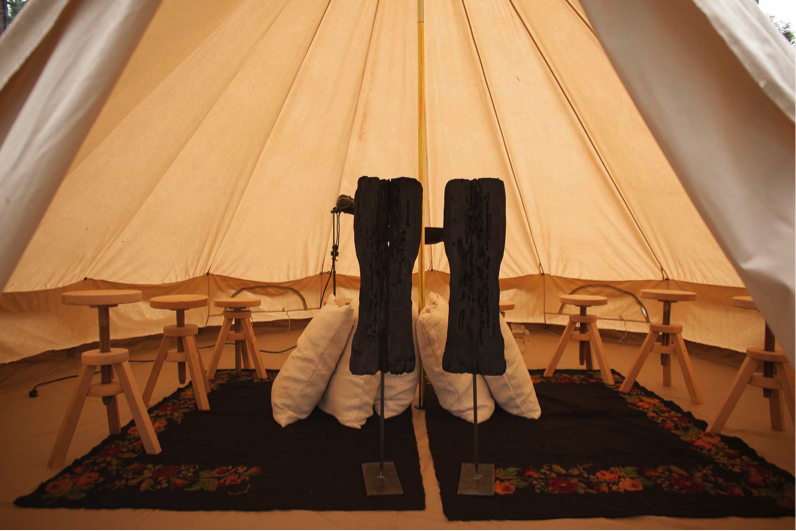 THINKtent is a portable 5 x 5 metre canvas belltent.  In each location THINKtent appears, the interior is curated to reflect and express distinctive qualities of a specific place and its people.
In Serbia, THINKtent is curated by PROTOTYPE, based in Belgrade – interior architect Milivoje Stojanović, with Miroslav and Jasna Stojanović.  It's a wonderful blend of old and new, dark and light, east and west.
THINKtent places are limited to fifteen people per session, and reservation is essential.
Each session runs for one hour – exploring a programmed topic and featuring high profile experts in their field.
Natasha Cica facilitates the sessions, taking handwritten notes and still photographs for future publication.  No recording or phones are allowed. Books, poems, songs and other cultural artefacts are welcome.
Register now for THINKtent Danube Dialogues
Thursday 28 August, 17:00–19:00
Courtyard of the Gift Collection of Rajko Mamuzić Vase Stajića 1, Novi Sad
All are welcome, entry is free.
Places are limited and registration is essential – REGISTER HERE >>